Bungle the chow: Police bite puppy seizure sparks anger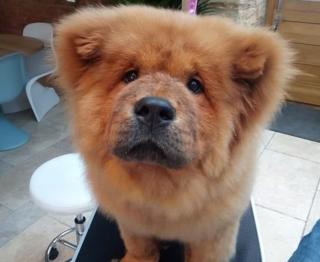 Angry dog lovers have demanded the release of a four-month-old puppy locked up for biting a police officer.
Chow-chow Bungle was under a lorry after escaping from his owner's home when the officer tried to grab him.
He was seized under the Dangerous Dogs Act and may be held for up to nine months – which his owners branded "draconian and disproportionate".
Northamptonshire Police said public safety was the "priority in such situations"
Writing on social media, owner David Hayes said the family pet had sneaked out of the family's gates in Stoke Bruerne, near Towcester, on Friday.
'Ridiculous'
Mr Hayes said his 15-year-old son Joseph "broke down at school" when he found out he may not see the puppy again until the new year.
He said they were "massively regretful" about the officer's injury but criticised the the "inflexibility" of police's "zero-tolerance stance".
Almost 5,000 people have joined a Facebook campaign demanding Bungle be freed.
On the page, the police action has been described as "disgusting" and "ridiculous".
Ch Insp James Willis of Northamptonshire Police said the officer was responding to a traffic hold-up "caused by a dog being loose" and potentially endangering road users.
He said the officer was bitten on the hand and arm but "not seriously hurt".
Ch Insp Willis said the dog was seized as the "owner was not present and there was continued risk".
He said Bungle would remain under the care of the force's dog legislation officer while the full circumstances of the incident were investigated.