Brexit: Tommy Robinson to lead UKIP march with counter-protests also planned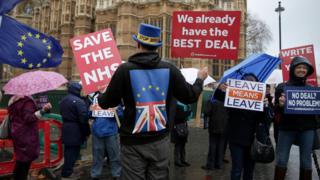 English Defence League founder Tommy Robinson is to join a pro-Brexit march, organised by UKIP.
A counter-protest against "far-right extremists" is being organised to take place at the same time, with anti-fascist groups and Labour-backed campaigners taking part.
Scotland Yard has imposed restrictions for the central London marches and urged people to protest peacefully.
Labour's John McDonnell said a "network of hate" was emerging.
The shadow chancellor urged people to march against the "poison" of Mr Robinson, whose real name is Stephen Yaxley-Lennon.
Mr Robinson was recently appointed as an adviser to UKIP leader Gerard Batten, prompting a number of people to resign from the party, including former leader Nigel Farage.
Mr McDonnell said: "This march isn't about Brexit, it's about far-right extremists dressing up in suits and pretending to be respectable."
Unite Against Fascism and grassroots group Momentum are also marching against Mr Robinson.
UKIP said their march against the "Brexit Betrayal" would be "the largest pro-Brexit event of the year". Mr Batten told supporters on Twitter: "Be there to show you want to Dump the Deal and that Brexit means Exit!"
He added it was the "only pro-Brexit rally to be held before the vote next week".
Scotland Yard said it had imposed conditions – which include the marches sticking to planned routes and limits the time they take place – based on current intelligence.
Mr Robinson and his supporters will meet outside the Dorchester hotel on Park Lane and march along a specified route to Parliament Street.
There will be police barriers separating them from the counter-protesters, who are gathering outside the BBC's Portland Place headquarters and then marching to Whitehall.
Deputy Assistant Commissioner Laurence Taylor of the Metropolitan Police said: "The right to protest is a fundamental right in our democratic society, but this right must be balanced against the right of people to go about their day without fear of violence, disorder or disruption."
He said police would "adopt a robust arrest policy on anyone who attends and is intent on violence and disorder".
A rally is also taking place in London on Sunday, organised by pro-EU group Best for Britain and the People's Vote campaign for a further referendum. Lord Heseltine, Sir Vince Cable, Charles Dance and Jason Isaacs are all due to speak.