Brexit secretary David Davis visits Irish border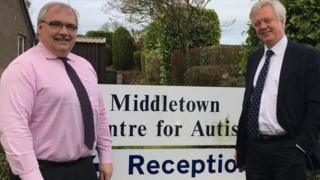 David Davis has made a short visit to the Irish border – his first as Brexit secretary.
He visited a number of places on the Northern Ireland side of the border.
They including food processing company Linwoods in Armagh, an autism centre in Middletown and former customs posts in the same village.
Mr Davis was accompanied by the chief executive of Co-Operation Ireland, Peter Sheridan, during the two-hour visit.
Brexit divorce cost 'uncertain'
Gareth Gordon, BBC NI political correspondent
Before today David Davis had famously never visited the Irish border in his capacity as Brexit secretary.
He has now, but few knew about it until he was long gone.
There were no journalists present as Mr Davis spent two hours viewing a small section of the frontier which appears to be the main problem preventing the UK making a smooth as possible exit from the European Union.
That meant there were no protesters present either – which may have been the point – but the lack of publicity surrounding the visit is bound to attract more criticism onto the head of the already under pressure Brexit secretary
"I showed him the way the border snakes back and forth. I think he was trying to get a feel for the place and the issues the border throws up," Mr Sheridan said.
"I think he was generally appreciative – he spent time and he wanted to see what I meant when I say the way it meanders.
"I took him down to the bridge [at the border] and showed him how it literally moved 10 fields back away from the road and then back down to the road again and how incredibly difficult to say exactly where that border is in places.
"I talked in more detail about the length – 500kms – of the border.
"There are 3,700kms of border to the east of Europe and 137 crossings. We have only 500kms of border with 275 crossings and that probably doesn't include smugglers' paths and gates between fields and so on."
The visit was not announced beforehand and they were not accompanied by journalists.
Last week the government said it was confident a deal could be done to avoid a hard border on Ireland after Brexit, despite signs of an impasse over the issue.