BP announces two North Sea discoveries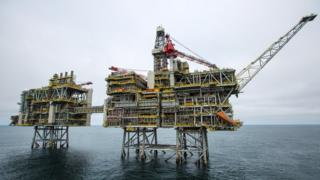 Energy giant BP has announced two new North Sea oil and gas discoveries.
Tests have been carried out to discover how much oil and gas is present, with the data currently "under evaluation".
The finds – in the Capercaillie and Achmelvich fields – were made in the central North Sea and west of Shetland after wells were drilled last year.
BP said in 2017 it hoped to double North Sea oil production to 200,000 barrels by 2020 through a range of projects.
The company said it would "assess future options", when analysis of the latest finds was complete.
It is understood that oil and gas might be extracted using a "tie back" whereby a pipe is laid to existing platforms.
BP North Sea regional president Mark Thomas said: "These are exciting times for BP in the North Sea as we lay the foundations of a refreshed and revitalised business that we expect to double production to 200,000 barrels a day by 2020 and keep producing beyond 2050.
"We are hopeful that Capercaillie and Achmelvich may lead to further additions to our North Sea business."