Boys arrested after crash injures girl, 6, in Northampton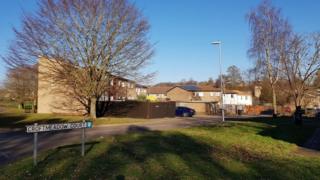 Two boys, aged 12 and 13, have been arrested after a six-year-old girl was hurt in a car crash.
The girl was a passenger in the car which hit a tree in Croftmeadow Court, Northampton, at 16:40 GMT on Thursday.
The boys were arrested on suspicion of theft of a motor vehicle, causing serious injury by dangerous driving and and failing to stop.
Northamptonshire Police said the girl was taken to Northampton General Hospital with minor injuries.
A spokeswoman for East Midlands Ambulance Service said crews were called to reports of a "road traffic collision".
"We sent a medical first responder, a paramedic in an ambulance car, a crewed ambulance and the air ambulance. We transported one patient to Northampton General Hospital," she said.
Tyre tracks and the aftermath of a small fire can be seen next to a tree on the street where the crash is believed to have happened.
A woman, who lives in the area, said: "It's scary to think of two lads that young in a car doing something like that round here."
Another resident described it as a "fairly quiet" area.