Bowel screening to start earlier at age 50 in England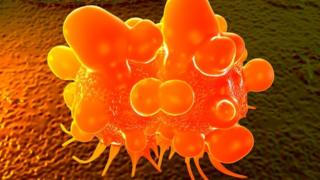 Bowel cancer screening in England is to start earlier, at age 50, Public Health England has announced.
It said evidence showed that screening people at a younger age would allow more bowel cancers to be picked up at an earlier stage.
Currently, men and women are first screened at 60, although some parts of the country offer it from 55.
The change brings England in line with Scotland where bowel screening is automatically offered from 50.
An independent committee of screening experts recently recommended that bowel cancer screening in England should begin at the age of 50.
The Health Secretary Matt Hancock has now agreed to the change, and NHS England and Public Health England are now deciding how the plan will be rolled out.
At present in England, men and women are first invited for bowel cancer screening at 60 and sent a home test kit every two years up to the age of 74.
In some areas, a one-off bowel scope test is also offered at the age of 55.
'Spot abnormalities'
Prof Anne Mackie, director of screening at Public Health England, said: "The risk of bowel cancer rises steeply from around age 50-54 and rates are significantly higher among males than females.
"Starting screening 10 years earlier at 50 will help spot more abnormalities at an early stage that could develop into bowel cancer if not detected."
She added that the change would take time to implement.
In the meantime a new test, called a faecal immunochemical home test kit or FIT, is being rolled out to everyone age 60 and over.
In the future, the plan is to send this test to everyone in England from the age of 50.