Bogside trouble: Three injured after 26 petrol bombs thrown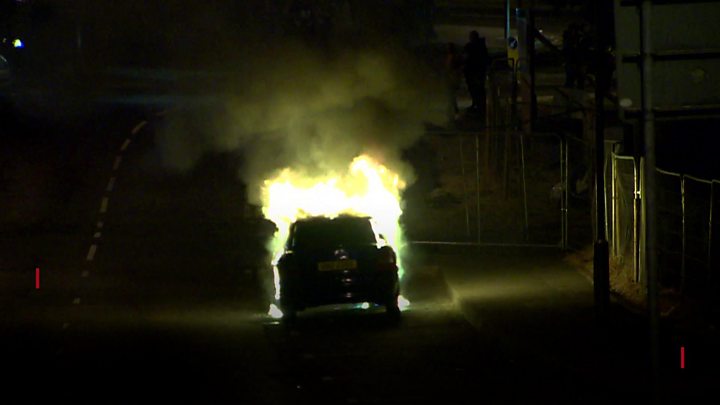 A woman and two police officers have been injured following another night of disorder in Londonderry.
More than 20 petrol bombs were thrown in the Bogside on Monday night and police wearing riot gear had to move into the area.
A car was set on fire in Fahan Street and rubbish was set alight at the bottom of the Lecky Road flyover.
Two men, aged 20 and 50, were arrested and remain in police custody.
A 16-year-old boy has also been charged with disorderly behaviour, assault on police, resisting police and possessing an offensive weapon.
More than 100 people also gathered on Monday night to show their support for residents in the Fountain estate.
The crowd walked from the Bogside to the Fountain after 08:00 BST and past the sheltered accommodation which was attacked during disturbances over the weekend.
Contractors also moved in to extend the height of a fence on the city's walls on Monday night.
PSNI Chief Inspector Alan Hutton said the two police officers were injured after being hit by bricks.
'Saddened and angry'
"We are disappointed that some people decided to continue the public disorder in the Bogside last night, despite the clear message from the community earlier," Mr Hutton added.
"I am very proud of how my colleagues stood in the face of danger, working to bring this situation under control.
"But I am saddened and angry that again we find ourselves subject to serious violence from the communities we serve.
"Let me be clear, we made three arrests last night and with a robust criminal justice strategy in place, there will be more."
Inspector Hutton said there are now a number of police officers who are no longer available to deliver their core policing duties.
"The huge impact on our city cannot be ignored.
"As we strive to promote our positive image, the negative effect of these violent pictures on jobs, tourism and investment cannot be underestimated. We do not want to take a backward step.
"I urge all those with influence to urgently use it to bring a resolution to the violence and work towards a longer term solution for the issues affecting this area."
DUP MLA Gary Middleton has been speaking to the woman who was injured on Monday night.
"She's in her sixties and was hit by a stone," Mr Middleton told BBC Radio Foyle.
"She went to hospital and thankfully she is ok. She has been left badly shaken though.
"This trouble needs to stop as soon as possible."
Sinn Fein MLA Karen Mullan said she believes dissident republican's have been orchestrating recent attacks.
"Our youth workers had to leave the area late last night for their own safety.
"Things got worse and the crowd has also got older."