Bloodhound supersonic car project axed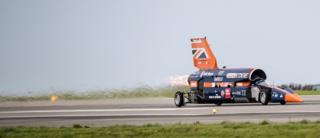 A project to race a car at more than 1,000mph has been axed after it failed to secure a £25m cash injection.
The Bloodhound supersonic vehicle – built with a Rolls-Royce Eurofighter jet engine bolted to a rocket – is all but finished.
The Bristol-based team behind it was aiming to beat the existing land speed world record of 763mph (1,228km/h).
A test run in Newquay in 2017 saw the vehicle reach speeds of 200mph (320km/h).
Following the failure to secure the investment the firm financing the project has gone into administration.
"Since [then] we have worked tirelessly with the directors to identify a suitable individual or organisation who could take the project forward," joint administrator Andrew Sheridan said.
"Despite overwhelming public support, and engagement with a wide range of potential and credible investors, it has not been possible to secure a purchaser for the business and assets.
"We will now work with key stakeholders to return the third-party equipment and then sell the remaining assets of the company to maximise the return for creditors."