Birmingham school in 'lockdown' after shots fired outside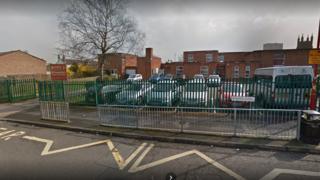 A primary school was put on "lockdown" after shots were fired outside and a man ran into the building for shelter.
The two shots were fired from a car at the man, who was on a bicycle outside St Edmund's Catholic Primary School in Springhill, Birmingham, said West Midlands Police.
The man later fled, said police.
A member of staff's car was damaged but no-one was injured. Police will be at the school on Thursday to reassure staff and parents.
"It is not believed that the school or any of the children or staff were the target of the attack.
"We are still searching for the victim, who is also thought not to have been injured, and the offender who made off in the vehicle," police said.