Birling Gap beach evacuated after suspected chemical leak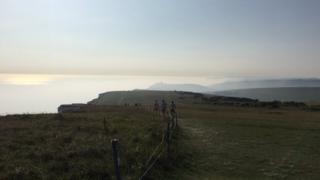 Emergency services have evacuated a beach in Sussex after a suspected chemical leak.
People on the beach at Birling Gap reported painful, stinging eyes and breathing difficulties after a "mist" appeared.
Sussex Police said there was an "unknown haze coming in from the sea" affecting the East Sussex coastline.
Surrounding roads have been closed and the public is being advised to avoid the area.
A police spokesman said the first report came in just before 17:00 BST where "up to 50 people had been affected by irritation to eyes and throats".
Emergency services are treating people at Birling Gap and clearing the surrounding area.
Chlorine smell
People are being warned to stay away from the beaches and to keep doors and windows closed if living on the nearby coast.
The source of the "haze" has not yet been established.
East Sussex Fire and Rescue officer Dawn Whittaker tweeted: "The fire service has Emergency Services dealing with environmental incident nr Birling Gap, many casualties, public advised avoid area."
The National Trust said it was aware of the incident and was working with the emergency services.
People on Twitter have reported the mist smelled of chlorine.