BiFab marine engineering yards 'to close'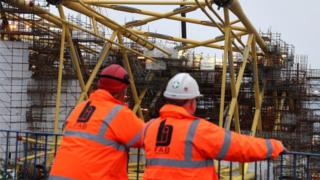 Union representatives have said the BiFab marine engineering yards in Fife and on Lewis could close by the end of June.
They have been told by managers at the yards that redundancy notices will be given to the core workforce on Tuesday.
The Unite union said it expects about 260 jobs to go, with redundancies beginning in May.
The Scottish government has said it will offer practical support to those who lose their jobs.
The union said it has been told the decision will only be reversed if new contracts for work are signed.
Unite regional officer Bob McGregor said: "So much has been done to save these yards until now.
"The workers there have fought for their future and it is difficult to believe that it can now be snatched away from them.
"The closures of these yards will turn these areas into an industrial graveyard. The prospect fills us with dismay."
Rescue deal
BiFab, which operates the yards at Burntisland and Arnish, reached an agreement with business partners in November to receive payments to alleviate its "immediate cash flow issues".
Scotland's economy secretary, Keith Brown, said at the time that if the offer of a £15m loan from the Scottish government was required, it would be extended to the firm on commercial terms.
Last month, it emerged BiFab was facing legal action from one of its business partners, German firm EEW.
Both companies have been working on contracts for the £2.6bn Beatrice Offshore Windfarm in the Outer Moray Firth.
Mr McGregor added: "We can't say this is a total shock because work at the yard has been running down for weeks now.
"However all the interested parties, the company, the contractors, the unions and the Scottish government, given what has been done so far, must surely look to have an eleventh hour intervention which can do something to save these jobs."
Employment support
The Scottish government has committed to supporting efforts to secure the future of the company, while offering support to those made redundant.
Economy secretary Keith Brown said: "This will be hugely concerning for the workers affected and their families – and we stand ready to provide support through our Partnership Action for Continuing Employment (PACE) initiative.
"By providing skills development and employability support, PACE aims to minimise the time individuals affected by redundancy are out of work.
He added: "Ministers recognise that more work remains to be done to secure the long term future of the company and are fully committed to offering support where possible to attract long term investment in this vital sector of the Scottish supply chain and economy."