Ann Maguire inquest: Pupil had threatened to kill teacher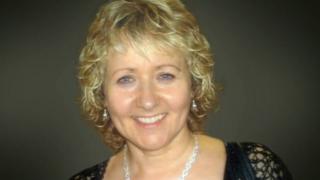 A 15-year-old pupil who stabbed teacher Ann Maguire to death told other pupils of his plan to attack her, an inquest has heard.
Mrs Maguire, 61, was murdered by Will Cornick at Corpus Christi Catholic College, Leeds, in April 2014.
She was stabbed seven times, including one blow which cut her jugular vein.
Cornick boasted to other pupils about attacking the teacher, but they did not believe him and did not report it, Wakefield Coroners Court heard.
More news from across Yorkshire
The inquest heard Cornick had told at least 10 other pupils precisely what he was going to do – where he was going to do it and how he was going to do it.
Det Supt Nick Wallen told the court: "He was a young man who was prone to say things that weren't true."
Messages on Facebook about attacking Mrs Maguire were also not taken seriously by his friends at the time.
Giving evidence, Det Supt Wallen said the attack had come "completely out of the blue" and Mrs Maguire "stood absolutely no chance whatsoever".
She was ambushed by a "strapping 15-year-old lad", he said.
The inquest also heard Cornick had stormed out of a meeting called to discuss his work in Spanish, involving Mrs Maguire.
He later received a detention, but went off on a bowling trip instead.
Mr Wallen said similar incidents happened in schools up and down the country.
"Is it a warning that this individual was about to kill his teacher? My answer to that would be 'no'.
"At no time did we have the impression of a disruptive, violent, angry individual who… was about to explode in a frenzy of violence such as his," he said.
The inquest continues.