Alton Towers Smiler ride crash victims sue park's owners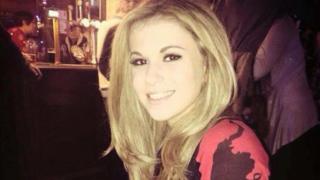 Two women who lost legs after a crash on a ride at Alton Towers are suing the park's owners, their lawyers have said.
Vicky Balch, 23, and Leah Washington, 20, were in the front seats of the Smiler ride which rammed into a stationary carriage in June 2015.
They could each receive "well in excess of £2 million" in compensation if the High Court claim is successful.
The women are suing Merlin Attractions Operations Ltd for negligence and or breach of statutory duty.
Merlin said it was "on standby to conclude settlement discussions on the outstanding claims as soon as they are ready".
The Staffordshire theme park owner has already admitted breaching the Health and Safety Act, and was fined £5 million in September 2016.
Miss Balch, of Leyland, Lancashire; and Miss Washington, from Barnsley, South Yorkshire; needed partial leg amputations after the crash. Both have been undergoing rehabilitation for their injuries.
Lawyer Paul Paxton said: "Our clients suffered life-changing injuries as a result of the accident.
"Whilst money cannot make up for what they have endured over the past three years, financial security can at least help the victims to lead a full and active life.
"Regrettably, where such serious injuries are sustained, it can take many years before the extent of losses can be established."
A Merlin spokesman said: "From the outset we have admitted liability and have engaged fully at all times to achieve settlement for all the claimants as quickly as possible.
"The claimants' lawyer has confirmed to us that this is a purely procedural filing to preserve their clients' rights in relation to the standard three-year limitation period, and that certain claims are not yet ready for settlement due to their complex nature."
He said settlements relied on receiving certain information from claimants, and Merlin had "provided appropriate support including interim payments while the assessments continue".
Judge Michael Chambers QC said the crash on the £18m attraction was a "catastrophic failure and a "needless and avoidable accident in which those who were injured were lucky not to be killed."
Miss Balch has said she does not see the point in being angry about what happened.
Lawyers said Meera Chauhan, 52, and her daughter Vanisha Singh, 33, from Walsall, who were also injured in the crash, were preparing their own legal battle.
They described the aftermath as being like something out of a "horror movie."