Aberdeen school asbestos incident 'forgotten' about for five days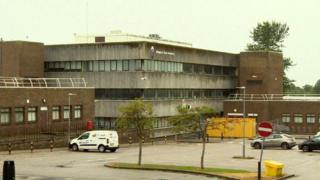 Twenty-five people were allowed into a school after asbestos was disturbed due to a series of failures in dealing with the incident, BBC Scotland has learned.
Teachers, janitors, cleaners and other workers were on Aberdeen's Bridge of Don Academy premises in the days following the incident last month.
A council investigation report reveals there was no emergency response as a line manager "forgot" about the incident for five days.
The asbestos was left at a skip.
The redacted report says procedures failed before and after the asbestos insulation board incident, which happened during maintenance work.
It details how, on 12 July, a worker was using a hammer and chisel to remove plasterboard facing and infill panelling above fire doors.
'Not safe'
The infill panel kept snapping and broke into three sections.
Shortly afterwards concern was raised about the material that was being removed, and it was decided it possibly contained asbestos.
It was double-bagged and left beside a skip.
The report says the site was "not safe" as the area had "not been correctly decontaminated and isolated to prevent access by other users of the building".
On 17 July, emergency procedures were initiated – the first such response to the disturbed material.
A site clean-up was initiated, and two vehicles which were used were then quarantined, for deep-cleaning.
And on 19 July, results from samples confirmed the presence of brown asbestos in the insulating board.
The report states: "Twenty-five persons comprising employees, sub-contractors, janitors, teachers and cleaners have been identified as being on the premises from 12-17 July."
On the "emergency response failures", it reveals: "Once the site supervisor notified his line manager about the potential disturbance of AIB (asbestos containing material) on 12 July, existing procedure was not initiated by the site manager because he was following instructions from his line manager.
"Line manager did not initiate procedure because he forgot about the incident until 17 July."
'Catastrophic failure'
The report says: "Throughout the project, planning has been poor."
And it adds there was "no level of urgency indicated throughout the incident".
It calls for refresher training to increase knowledge and understanding.
The Unite union's Tommy Campbell, when told of the details in the report, said it was a "catastrophic failure".
He told BBC Scotland: "This has put workers at risk and lots of other people as well."
'Robust policies'
Asbestos was found at another Aberdeen school last week during work to replace windows.
The harmful substance was discovered at Hazlehead Academy.
A spokesman for Aberdeen City Council said: "The health, safety and wellbeing of staff, pupils, contractors and all visitors to schools is a priority and Aberdeen City Council has robust policies, procedures and training in place in relation to asbestos.
"The incident at Bridge of Don Academy has been the subject of an internal investigation and the council is supporting the Health and Safety Executive as it conducts its independent investigation.
"The matter will be the subject of a report to the audit, risk and scrutiny committee in due course and it would not be appropriate to comment further at this stage."
Education convenor John Wheeler expressed concern about how the information was released, and said: "I'll be writing to the chief executive to request her to investigate the matter fully."