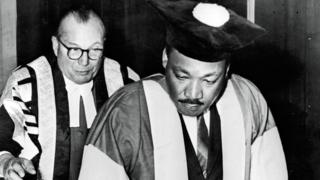 In barbers and bakeries, train stations and tea factories, the words of civil rights campaigner Martin Luther King were given fresh breath by the people of Newcastle on Monday – helped by artist Jeremy Deller.
In George Scott gentlemen's hairdressers, a customer sits and listens – he hasn't got much choice, with his short back and sides in progress – to a speech about how "racism is a reality in many sections of our world today".
The person delivering the speech is his barber, Allan Andrew Symons. He ends by informing his bemused client that they are "words spoken by Dr Martin Luther King Jr in Newcastle-upon-Tyne, 13th November 1967".
In the tiny Pink Lane Bakery, Sara Williams has worked out that she can deliver Dr King's words in the time it takes to make a coffee.
"Some people have ignored me completely," she says. "Some people have looked at me a bit strangely. Others have listened and been more engaged."
In the city library, IT project manager and actress Amanda Hepburn stands in the foyer and tells of how all the nations of the world must transform into "a beautiful symphony of brotherhood".
"I saw one of the library staff clutching her hand to her chest like she was a bit emotional about it, which was very nice," she says after delivering her lines.
"Everybody else seems a bit worried. There was a lady with a pram who hustled away, frightened that I was some loony in the library.
"But I think when they understand what it's all about, and what it means to Newcastle, they'll understand what a special event this is."
It's exactly 50 years since Dr King delivered his speech at Newcastle University. He was accepting an honorary degree, and Newcastle was the only UK university to bestow such an honour upon him in his lifetime.
It was also the last speech he gave outside the US. Five months later, he was dead.
Now, 50 people have spontaneously recited lines from that acceptance speech – taking people by surprise in shops, schools, offices, on the street, a yoga class, a business conference.
"I feel very humble that I'm speaking the words of such a great man, who made such a great effect on the world," Mrs Hepburn adds.
"I'm so proud that Newcastle reached out to him, and that Newcastle opened its heart to the civil rights movement is very special. It makes me so proud to be from Newcastle."
The idea for the city-wide anniversary performance came from Jeremy Deller, one of Britain's leading artists, who knows how to make a big impact by interjecting his ideas into our everyday lives.
He was behind the powerful We're Here Because We're Here project last year, which placed "ghost soldiers" into towns across the UK to mark the centenary of the Battle of the Somme.
Dr King's speech was "political poetry", Deller says, adding: "I thought it was an amazing speech and still is. It's incredibly poignant for today."
In the speech, Dr King set out three major problems that faced the US and the rest of the world in 1967 – "the problem of racism, the problem of poverty and the problem of war".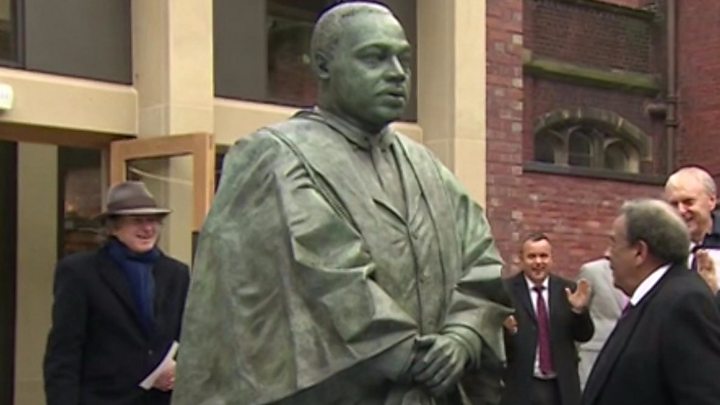 Deller came up with the idea for his project four years ago.
"Strangely, the words are actually more relevant and more poignant now than they were four years ago, when you think about what's been going on in America and Europe as well, and in this country," he says.
Also on Monday, a statue of Dr King was unveiled in Newcastle, and there has been a season of commemorative events under the banner Freedom City.
Ilana Mitchell, artistic director of Newcastle-based arts organisation Wunderbar, which organised Deller's performance, says the out-of-the-blue recitals were met with shock by some – but that they had made the desired impact.
"We've had some interesting feedback of people being really startled by it and then really moved as well," she says.
"We had a woman this morning who's the clinical lead at the paediatric unit at one of the hospitals and she recited one of the parts of the speech to the team at the ward round handover, and said it was very moving, although nerve-wracking.
"It's been lovely because every time we've spoken to somebody about this project, once they've got over the nervousness of speaking out in public, they've told us why it's so important – because the words are so resonant today."
Back at the barber's, 29-year-old computer programmer Alex Lees is next in the chair.
He has already heard the lines once – on the public address system on the Metro on his way to work.
"I left my headphones at work so I heard every word of it and was listening properly to it," he says.
"It was a complete shock. I think it's always nice to spread that message. Usually all you hear is 'this service is running well' or 'this service has a problem', so to hear that was completely different from what you usually get.
"And I wouldn't have known about the anniversary without it."
---
Follow us on Facebook, on Twitter @BBCNewsEnts, or on Instagram at bbcnewsents. If you have a story suggestion email entertainment.news@bbc.co.uk.