Uber's London woes boost rival taxi apps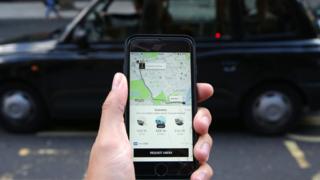 The decision not to renew Uber's licence to operate in London has given rival apps a boost, research suggests.
In the 48 hours following the decision, Addison Lee, Gett and MyTaxi all saw a spike in downloads, according to analytics company App Annie.
All saw thousands more downloads than usual, despite Uber continuing to operate in London as usual while it appeals the licence decision.
The rival apps remain dwarfed by Uber, which was still downloaded the most.
Figures from App Annie suggested that, when added together, downloads of the three apps were up at least 159% compared with the same time the previous week.
MyTaxi's own figures suggest the app outperformed App Annie's estimates.
The company told the BBC it had experienced a 250% increase in downloads on Friday and "enjoyed the highest week in the last few years for new paying customers using the service".
Addison Lee told the BBC it had experienced a 180% increase in downloads over the weekend following the announcement, compared with the previous weekend.
On Friday, London's transport authority TfL announced that it had decided not to renew Uber's licence to operate in the city.
It said the ride-hailing company was not fit and proper to hold a London private hire operator licence.
Gorilla
Some rival car-booking services had tried to capitalise on the news by offering steep discounts over the weekend, even though Uber's service will continue to operate as usual while it appeals against the TfL decision.
Figures from app research company Priori Data also indicated a boost for Uber's rivals.
"The small-scale effect last weekend shows that TfL's decision is creating awareness of alternatives," said Joseph Evans, from the consultancy Enders Analysis.
"Given Uber's position as the best-known ride-hailing brand, even this is something they would rather have avoided.
"But the point remains that from a taxi-app perspective, Uber is the 800lb gorilla in the UK."
Uber declined to comment, but the company says Londoners make more than a million journeys a week using the service.
Gett was contacted by the BBC but has yet to reply.