Trevor Baylis: Wind-up radio inventor dies aged 80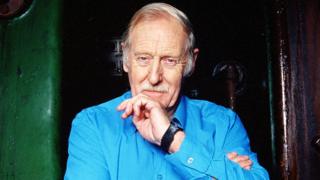 The inventor of the wind-up radio, Trevor Baylis, has died aged 80, the manager of his company has confirmed.
David Bunting said Mr Baylis from Twickenham, south-west London, died on Monday of natural causes after a long illness.
Mr Baylis invented the Baygen clockwork radio in 1991.
He was appointed CBE in 2015 after campaigning to make theft of intellectual property a white-collar crime.
He said chatting with the Queen at the ceremony was "like catching up with an old mate".
Mr Baylis had also worked as a film and TV stuntman and an aquatic showman.
He had been seriously debilitated, having suffered from Crohn's disease, Mr Bunting said.
Mr Baylis was previously awarded the OBE for his radio, which he designed after seeing a documentary about Aids in Africa that suggested educational radio programmes could help tackle the spread of the virus.
He had said he received almost none of the profits from the invention because people took advantage of patent laws to sell other versions of it.
In later life Mr Baylis advised other inventors on developing their ideas, and campaigned against theft of intellectual property.
Mr Bunting, who runs Trevor Baylis Brands, said Mr Baylis had no living relatives.