The mystery of the cars abandoned in a robot car park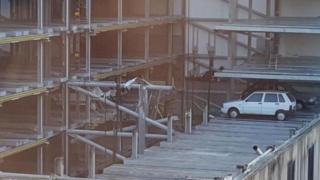 The mystery of why a handful of cars were abandoned in a derelict car park in Edinburgh may have been solved.
The £5m Autosafe SkyPark used robots to stack cars and was dubbed the "car park of the future" – but went into receivership in 2003.
After lying empty for more than a decade, the building in Morrison Street is now being demolished.
And the work has uncovered eight cars which were left behind when the doors were closed.
Images of the abandoned vehicles has sparked a number of theories about why they were never removed.
But a former employee has said they could be old vehicles which were bought by the car park's former operators to test out the robot equipment.
Turntables and lifts
The state-of-the-art building was described as Britain's "most technologically advanced car park" when it opened its electronically-controlled doors in 2001.
It was nominated for awards for its innovative ideas in utilising its space for parking.
Drivers would pull into bays and leave their cars to "robots", which would then scan the cars and take them to the nearest space via turntables and lifts.
The building housed 600 spaces and was based on similar technology used in China, Japan and Australia.
But it is believed the technology was difficult and expensive to maintain, and in 2003 the company went into receivership.
Urban legend suggests the doors were simply closed one day, leaving several cars trapped inside.
Having been empty for more than a decade, work started last year to turn the site into a 122,000 sq ft office development by Glasgow-based BAM properties, on behalf of Hermes Investment Management.
As the demolition unfolded, the car mystery was sparked by a photo posted on sharing site Reddit by a worker in an office building facing the site.
User ieya404 said: "I work in an adjacent building – and had no real idea of what it was before.
"As the outer shell of the building got cut off we could see the metal skeleton of the insides, and only as they've cut most away were the cars revealed."
Early days
Theories about why the cars were left behind have ranged from people not being able to collect their cars from the closed-down facility, to people having a few drinks and leaving their cars there.
However, the most likely explanation came from Ronnie Meredith, a bus driver from Edinburgh.
He worked in the Autosafe Skypark in 2001.
He said: "When it first opened they did buy so many bangers for testing.
"We had a few scrap cars. I remember one being a Austin Maestro and we also had a Lada and a long wheel base Volvo.
"On numerous occasions when it broke down we either had to instruct the computer to retrieve a car from its position or physically go inside with what we called a joystick and manually retrieve a car."
Ronnie said that was why no one claimed the cars
"I find it funny how people think that these car were abandoned.
"Even if the place had its doors shut by administrators they would have still legally be entitled to retrieve their own personal vehicle.
"If anyone looked at the windscreens of these cars they would no doubt have noticed that none of them had a tax disc which was still a legal requirement back then if the car was being used on the road."
A spokesperson for Hermes said: "We can confirm that there are eight cars present at the car park on the Capital Square site, which have been there since the car park closed in 2003.
"The owners of the cars are unknown and they are now the property of the demolition company who will remove the cars once work begins on the levels on which they are located."