Google reveals gaming platform Stadia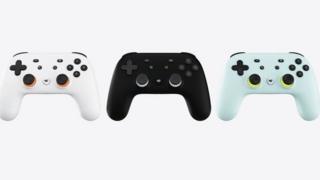 Google has unveiled a new digital gaming platform called Stadia which will stream data-rich games that have traditionally had to be either downloaded or purchased on disk.
At launch it will work on existing desktops, laptops, TVs and phones, said the firm's Phil Harrison.
The firm also revealed a controller.
It looks like a traditional console controller but the Stadia version has a button for capturing and sharing content directly to YouTube.
Google experimented with streaming data-rich games in 2018 with Project Stream, when the tech giant made the Ubisoft game Assassin's Creed: Odyssey available to play to trial participants via the Chrome web browser.
This is possible because the games run elsewhere, on Google's own high-end hardware, but users connect to the game with their device via the web.
"We learned that we could bring a triple-A game to any device with a Chrome browser and an internet connection," said Google CEO Sundar Pichai.
More to follow