Gamer with terminal cancer achieves 'Ultimate' goal
Gamer with terminal cancer achieves 'Ultimate' goal
By Kris Bramwell
BBC UGC & Social News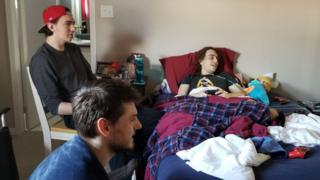 When terminal cancer patient Chris Taylor tweeted that he was scared he would not live to see the latest release of his favourite video game, the social media world responded with gusto.
His tweet triggered a campaign that saw thousands of well-wishers help him realise his dream of playing Nintendo's Smash Bros. Ultimate, months before its release.
The 21-year-old, from Ontario, in Canada, has bone cancer which has left him bedridden and unable to move more than a few feet.
He said: "December is a long way away for someone who is already bedridden.
"I know it's childish to despair over a video game but Smash means a lot to me and when Ultimate looks so good it breaks my heart."
Chris' initial tweet has been liked more than 9,000 times and retweeted more than 3,400 times.
The tweets supporting him have also had a huge response.
Chris has since announced that everyone's efforts have paid off and that he has played the game with friends and family, describing it as "amazing".
Posting on Reddit to the gaming communities who had helped him, Chris said: "No words can describe how thankful I am.
"I hardly deserve it but you guys did this and the pure kindness brings me to tears, thank you so much."
Reacting to the news, some paid tribute to the gaming community.
Chris has posted several messages since, expressing his gratitude and has vowed to keep going for as long as he can.
You may also be interested in: