Fortnite's World Cup to be 'open to all'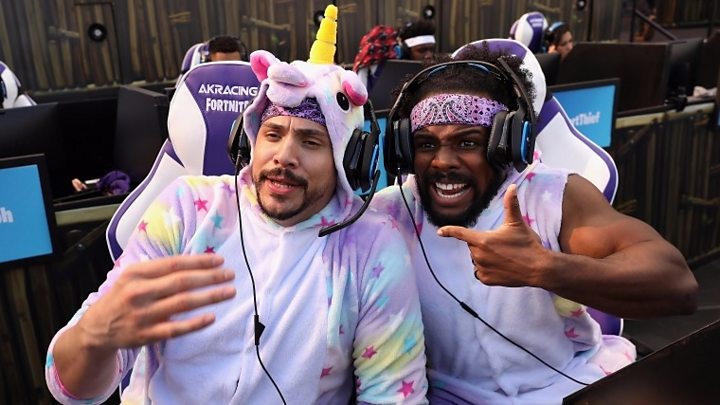 Epic Games, the maker of popular video game Fortnite, has announced more details about its first World Cup.
It would be open to all players, Epic said at a live celebrity tournament at the Los Angeles E3 gaming conference.
And the $100m (£74m) prize pot – the largest in the highly lucrative world of e-sports – would be split between many events at different levels of competition around the world.
It comes as some are expressing concern about young children playing Fortnite.
Launched in June 2017, Fortnite now has 125 million players around the globe, according to Epic.
Its most popular format, Battle Royale, pits 100 players against each other, some of whom are in small teams, to see who is the last person standing.
The game is free, but players can spend real money on in-app purchases including skins to customise player avatars.
Announcing the details of the World Cup in a blogpost, the company said: "We're getting behind competitive play in a big way, but our approach will be different – we plan to be more inclusive, and focused on the joy of playing and watching the game.
"We'll be supporting community organised events, online events, and major organised competitions all over the world, where anyone can participate, and anyone can win."
"This is for you, the players. Qualifications for the Fortnite World Cup will be based on merit. Epic will not be selling teams or franchises, and won't allow third-party leagues to do so either."
The play would focus on individuals and duos but "there'll be plenty of opportunities to squad-up in competition, too", it added.
Age issue?
The qualifiers will begin in autumn 2018, with the World Cup event due to take place in late 2019.
According to e-sports analyst Newzoo, organised, competitive computer gaming will generate more than £1bn in global revenue and almost double its audience to nearly 600 million people by 2020, giving it the potential to become one of the top five sports in the world.
There is huge appetite for Fortnite. Last month, a tournament held by one of the game's most famous streamers, Ninja, saw more than 600,000 concurrent viewers on game streaming site Twitch.
The game has an age classification of 12-plus but is increasingly attracting younger children, leading some to question whether it is suitable for such a young demographic.
Alastair Graham, chief executive of online age verification company AgeChecked, said: "[The] dangers of under-age children playing online games such as Fortnite are that it risks desensitising young children to mature themes such as gun violence, as well as putting them at risk of being scammed or groomed online by their elders."