Apple's HomePod speakers leave white marks on wood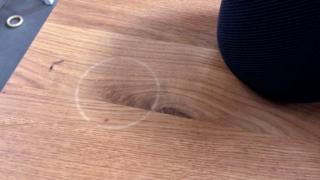 Apple's new smart speakers can discolour wooden surfaces, leaving a white mark where they are placed, the firm has acknowledged.
The US company has suggested that owners may have to re-oil furniture if the HomePod is moved.
The device went on sale last week after having been delayed from its original 2017 release date.
Apple told Pocket-lint that it was "not unusual" for speakers with silicone bases to leave a "mild mark".
But the gadget review site told the BBC it had never seen anything like this problem.
The website's founder, Stuart Miles, told the BBC that a speaker left a mark on his kitchen worktop within 20 minutes.
"To clear it, I had to sand the wood down and then re-oil it," Mr Miles said.
"It wasn't the end of the world for us. But if you've bought an expensive Scandinavian sideboard or some beautiful piece of wooden furniture and then got a mark on it from the speaker, you can imagine the horror," he added.
The problem has also been experienced by a New York Times review and the 9to5Mac news site as well as by at least one member of the public.
The NYT's Wirecutter site said Apple told it that "the marks can improve over several days after the speaker is removed from the wood surface."
Apple added that if the marks did not improve then customers could "try cleaning the surface with the manufacturer's suggested oiling method".
It is not yet clear if the problem affects all HomePod speakers or just a sample of the initial production run.
Heat and moisture?
The £319 HomePod has been praised in reviews for the quality of the bass notes that it can produce.
But to do so, it needs to be placed on a flat surface.
"Most others devices that I test have small feet that raise them off the counter ever so slightly to cause an air flow," commented Mr Miles.
"But the HomePod appears to need contact with the surface that it's on to resonate and create the powerful bass.
"I put it on a coaster to see if that would combat [leaving a mark] but that destroyed the bass qualities, so that's not a fix to the problem," he added.
According to one furniture polish advice site, the most common causes of white marks on wooden furniture are heat and moisture.
The BBC has asked Apple for more details about the issue but has yet to receive a reply.