Soggy 2017 was fifth warmest year in UK record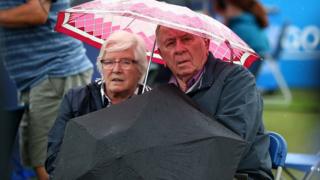 2017 was the fifth warmest year in the UK climate record that stretches back to 1910 according to a new analysis from the Met Office.
Their State of the Climate Report says that nine of the ten warmest years on record for the UK have occurred since 2002.
The study says that 2017 was more than 1 degree C above the 1961-1990 baseline temperature.
Summer rainfall has also increased significantly over the last ten years.
Compared to the sun kissed scorcher of a summer that the UK has generally been experiencing this year, 2017 was a rather soggy year with above average rainfall from June through August.
Despite the rain, temperatures from February to June were also above average – and the number of days with air frosts was 45, which is nine below average.
The overall mean temperature for the 2017 was 9.6 degrees C, which made it the fifth warmest in the UK series dating from 1910, and the eight warmest in the Central England temperature series which dates back to 1659.
The authors say if you look at the trend over a decade or more, it is further evidence that the climate is changing both globally and here in the UK.
"We do have a very strong evidence that we have observed warming of the UK over recent decades," Dr Mark McCarthy, manager of the Met Office National Climate Information Centre, told BBC Radio 4's Today programme.
"So the most recent decade, if we take the period 2008 to 2017 is just under a degree warmer than our standard 1961-1990 baseline reference period."
Most of the UK's hottest years on record have taken place over the past 16 years apart from 1990 with 2014 being the warmest.
If you look at the Central England temperature series, it shows that the years since 2001 have been warmer than the previous three centuries.
One aspect highlighted by the report has been the fact that over the past decade UK summers have been notably wetter – with a 20% increase in rainfall compared to 1961-1990. The researchers say that this may be due to variability in the summer North Atlantic Oscillation.
This weather phenomenon sees differences in pressure influence the path of the jet stream, which in turn can impact the amount of rain that falls in the UK in summer.
However that trend has been broken this year as recent months have been extremely dry and warm, with May breaking records for heat and sunshine.