Call to turn oil rigs into nature reserves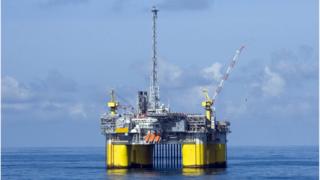 Marine wildlife could benefit if some de-commissioned oil rigs were left on the sea bed, a survey says.
This challenges the conventional wisdom that the sea bed should be restored to its pristine state when a rig's life ends.
The paper says over the 30-year lifetime of an oil rig, creatures have often colonised the structure to form a reef.
It says this artificial habitat can be more valuable than the original seabed.
It can also protect sea creatures from fishing.
The paper from the University of Technology in Sydney, Australia, is based on a survey of 40 experts from academia, government and consultancies.
Their focus was on the North Sea – but the authors say the principles are applicable anywhere.
More than 90% of the experts surveyed said governments should abandon the principle that oil rigs should always be removed.
Instead, there should be a more flexible, case-by-case approach to de-commissioning.
It warns that the process of removing the rigs can be damaging to the environment in its own right.
What is the case for and against?
The paper drew a sceptical response from Greenpeace. Their spokesman Doug Parr told BBC News:
"If companies want to propose artificial reefs for ecological benefit there are international legal processes for doing so which will need to be justified to the full range of scientific opinion.
"The North Sea is not a natural environment for hard structures and leaving rigs there is a distortion of the ecosystem – a raft of plastic bottles accumulates marine life, but no-one is arguing we should create more.
"We should be wary of proposals that look like a convenient way of oil companies avoiding their responsibility to clean up after themselves."
But David Johns, Head of the Plankton Recorder Survey at the Marine Biological Association and co-author of the paper, said it was time for a re-think.
He said multiple factors had to be taken into account when de-commissioning. He said: "There needs to be a case-by-case evaluation.
"These sites can become refuges for many under-threat organisms. And the physical presence of a sub-sea structure limits fishing effort in the local area."
Will a change in policy save cash?
If the findings are adopted by governments it would offer a financial boon to the oil industry – and also in future to the wind industry, which will undergo a similar de-commissioning issues as turbines age.
The paper says under the current regulations, based on OSPAR Decision 98/3, more than 1300 offshore oil and gas installations will have to be brought to shore over the coming decades.
Follow Paul on Twitter.