Ariane rocket suffers rare launch anomaly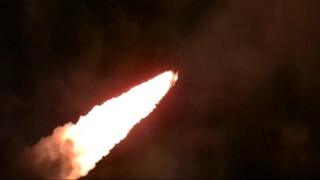 Europe's normally highly dependable rocket, the Ariane 5, experienced an anomaly during its latest launch.
Telemetry from the vehicle was lost shortly after its two stages separated, about nine minutes into the flight from French Guiana.
Two hours of uncertainty then followed as controllers tried to determine the status of Ariane and the satellites it was carrying to orbit.
Radio signals were eventually picked up from the telecommunications spacecraft.
Engineers will now be assessing their health.
Arianespace, the company that operates the Ariane 5 from the Kourou spaceport in French Guiana, issued the following statement late on Thursday, local time:
"The launcher's liftoff took place… at 7:20pm. A few seconds after ignition of the upper-stage, the second tracking station located in Natal, Brazil, did not acquire the launcher telemetry. This lack of telemetry lasted throughout the rest of powered flight.
"Subsequently, both satellites were confirmed separated, acquired and they are on orbit. [The two satellites] are communicating with their respective control centres. Both missions are continuing."
One satellite is owned by Luxembourg-based operator SES, the other belongs to Abu Dhabi-based Yahsat.
The SES satellite, called SES-14, was manufactured in the UK by Airbus at its Portsmouth and Stevenage plants.
Jonathan.Amos-INTERNET@bbc.co.uk and follow me on Twitter: @BBCAmos