Windrush: Labour calls for answers on destroyed landing cards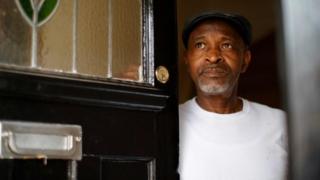 Labour is calling on the government to explain who authorised the destruction of thousands of landing cards containing information about Windrush migrants from the Caribbean.
It emerged that cards belonging to migrants were destroyed by the Home Office in 2010.
Labour said this was "truly shocking".
The Home Office said the landing cards would not have proved an individual had lived in the UK and that keeping them could have broken data protection laws.
Labour has accused the Home Office – which was run at the time by Theresa May – of getting rid of "the very records that could have demonstrated their right to remain".
But the government said such a suggestion would be "misleading and inaccurate".
It said the decision to "dispose of" the cards had been an "operational" one, taken by officials at the UK Border Agency, rather than then-Home Secretary Mrs May.
Meanwhile officials are investigating dozens of new migration cases relating to the Windrush generation amid mounting criticism of the government.
The Home Office said it was looking at 49 cases as a result of calls it received on Tuesday.
The continuing row concerns the so-called Windrush generation, who arrived in the UK from the Caribbean as children in the first wave of Commonwealth immigration 70 years ago, often on their parents' passports.
Changes to migration rules mean those who lack documents are now being told they need evidence to continue working, access key services or even remain in the UK.
This is what happened to 60-year-old Anthony Bryan. He lost his job when he received a letter informing him he had no right to remain in the UK.
He says: "It was a shock because I have always thought I was legal, I was British. I have been here from when I was eight. I didn't give it another thought."
Mr Bryan, who came to Britain from Jamaica in 1965, was held in a detention centre twice for nearly three weeks last year.
He has since been given leave to remain, but is still waiting for legal paperwork to confirm his right to stay.
'An impossible goal'
BBC political editor Laura Kuenssberg
To understand what's gone here it's worth remembering that the rules that now seem overly draconian and unnecessarily burdensome were conceived in a particular political climate.
In the days of the coalition, the government's target of getting net immigration down to below 100,000 seemed pretty much unachievable. But the then-Prime Minister, David Cameron, had told voters in 2010 that he would cut immigration or deserve to be kicked out.
Theresa May was the politician charged with trying to meet what seemed an impossible goal.
The hunt was then on, under her leadership at the Home Office, to try to find every single possible way that could cut the levels of immigration, whether cracking down on people coming here illegally, or dealing with the problem of over-staying – where people came to the UK to study or work on time-limited visas but stayed.
Of course, neither of those categories relate to the Windrush generation, but they meant that slowly but surely government policy towards anyone whose status might be unclear or undocumented became tighter and tighter.
A former Home Office employee has told The Guardian that thousands of landing card slips recording Windrush immigrants' arrival dates in the UK were destroyed in 2010 during an office move.
The former worker, who is not named by the newspaper, said managers were warned by staff that destroying the cards would make it harder to check the records of older Caribbean-born residents experiencing difficulties proving their right to remain in the UK.
A Home Office spokesman said the registration slips provided details of an individual's date of entry, "not any reliable evidence relating to ongoing residence in the UK or their immigration status".