Whatever happened to the Brexit talks?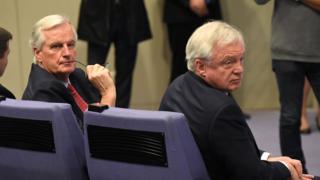 "Where are your cameras? joked Michel Barnier when I bumped into him the other day, "I'm a bit disappointed there aren't any."
Me too, Michel. Me too.
The last few weeks have been like "dry January" for Brexit-watchers.
Last year the EU chief negotiator and Britain's Brexit Secretary David Davis met at least once a month from June onwards.
Things went up a gear in the weeks before EU leaders met for a summit in December to judge if enough progress had been made in talks about the divorce to move on to discussions about the future relationship with the UK.
And then… nothing.
But things have been happening. Just not in public.
Last week officials from both sides held two days of "technical talks", where they discussed issues left over from Phase One.
They talked about turning assurances about the Irish border into reality.
And there's a grab-bag of unsolved problems in a category called "Other Separation Issues" which includes disagreements about monitoring the sale of animal products and how to handle ongoing court cases and police operations.
"We are not there yet. More work to be done," tweeted the German Brexit Co-ordinator Peter Ptassek this weekend.
He was issuing what he described as "a friendly reminder" that when it comes to Phase One it's "sufficient progress" not "mission accomplished".
He also warned that the process of turning the commitments made so far into a legally watertight text could reveal more problems.
Phase Two is about agreeing the transition or implementation period – where the UK will be expected to follow European Union rules from Brexit Day in March 2019 until December 2020 – and then the future relationship which will last until, err… forever.
Brainstorming
There are rumours that the David-Davis-Shakes-Michel's-Hand-then-Comes-Back-For-A-Slightly-Grumpy-Press-Conference-A-Few-Days-Later format will be ditched in favour of constant, below-the-radar contact between civil servants.
But that is denied by both sides.
The real reason for the lack of high-profile talks is that we are all waiting for EU leaders to agree their instructions to their Chief Negotiator, Mr Barnier.
A first draft of the so-called "negotiating directives" was published just before Christmas.
They have been tweaked a few times since, with diplomats meeting weekly to discuss whether there should be a fixed end date and whether EU nationals should still be able to settle permanently in the UK during that time.
Ministers from the remaining 27 member states will approve a final version on Monday, 29 January.
Then the podiums can be wheeled out for formal talks to begin.
In the meantime, officials from the EU27 have held a series of seminars where they brainstorm their approach to the negotiations about the future relationship.
More guidelines
The European Commission has published slides of the presentations given by their Brexit Task Force.
We learned that they are mulling over an EU/UK fisheries partnership that would look very similar to the Common Fisheries Policy.
The UK's red line on the European Court of Justice would spell an end to membership of the European Aviation Safety Agency, diplomats have been told.
The EU's Association Agreement with Ukraine is being mined for ideas that could apply to Britain.
It will lead to a further set of guidelines – yes another one – which will be signed off by EU leaders during a summit at the end of March.
This will be an incredibly important document that will set the parameters for what is to come.
I will probably end up learning it off by heart, like the paper that set out the ground rules for the first phase.
And the EU is sticking to its timetable of having the Brexit treaty done by October so that it can be ratified by the European Parliament.
Dry January is coming to an end. Don't worry Mr Barnier… the cameras will be back soon.