UK Minister's 'warning' to SNP over devolved EU powers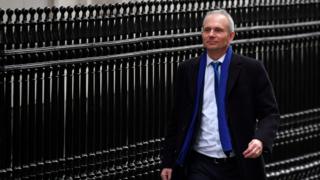 A senior UK minister is to warn the Scottish government it could cause the British economy to become "disjointed".
Cabinet minister David Lidington said negotiations could be damaged if a successful deal is not reached over the return of EU powers to Holyrood after Brexit.
The MP will stress the need for common rules and regulations across all parts of the UK.
He is due to deliver a major speech on the issue.
Rt Hon David Lidington MP, Chancellor of the Duchy of Lancaster and effectively Theresa May's deputy, will set out what EU Exit means for the four nations of the United Kingdom, and the Government's vision for the Union and for devolution after Britain leaves the EU.
In the Sunday Telegraph, Mr Lidington wrote: "The UK is at a crossroads in our history.
"We face a choice that will define our future journey together as we leave the European Union next year.
"We could choose to leave as a country split and an economy disjointed, struggling to make our way in a new world outside the EU.
"Or we can come together as one United Kingdom, confidently seizing new global opportunities as we build a prosperous, secure nation fit for the future challenged we will chase."
The SNP says UK ministers need to show some leadership.
SNP MSP Ash Denham, speaking on BBC's Sunday Politics Scotland programme, said: "I've seen the reports that they think the SNP is going to potentially damage some trade deals going forward.
"First of all that's completely wrong.
"Second of all that's a sign of a weak government that are trying to blow up a smoke screen because they are unable to come to the table with some serious proposals in order to satisfy the Scottish government."
'Undermining the Scottish Parliament'
Commenting on the newspaper remarks, Scotland's Brexit minister Michael Russell said: "With these comments from the UK government, the cat is out of the bag – and it simply underlines the urgent need to fully protect the existing devolution settlement.
"People in Scotland voted overwhelmingly for devolution and against Brexit. But the Tories are now trying to undermine what we voted for – the Scottish Parliament – to force through what we rejected -Brexit.
"The current discussions between the Scottish and UK Governments centre only on powers which are already devolved. The Tories have now made it crystal clear they want to take control of some of these devolved powers as part of their plan for a disastrous hard Brexit outside the EU Single Market and Customs Union.
"This raises some very troubling questions for issues such as food standards and environmental protection. And if, for example, a proposed future trade deal involved healthcare, could Scotland be forced down the same route as England and made to open up our health service to private providers?"
Mr Russell said the Scottish government has made clear it is not opposed in principle to common frameworks where a case can be made, but these must be agreed on the basis of genuine mutual consent.
Conservative MSP Miles Briggs told the BBC's Sunday Politics Scotland programme: "We'd like to see those powers come back to Holyrood to strengthen the Scottish Parliament.
"Beyond that there will then be cross-border issues which we haven't got that agreement on yet.
"But I think with compromise there is the opportunity to do that. I think both governments are looking towards where these powers are going to have a common sense approach is something we should all be working towards."