UK jobless rate remains at 4.7% as wage growth stalls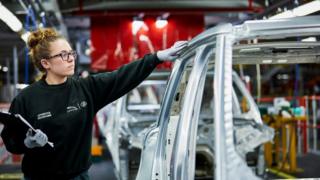 The UK unemployment rate has remained at 4.7% as inflation starts to wipe out wage growth, official figures show.
The number of people unemployed fell by 45,000 to 1.56 million in the three months to February, said the Office for National Statistics (ONS).
Average weekly earnings including bonuses increased by 2.3%, the same as in the year to January.
On Tuesday, figures showed inflation was running at 2.3%, above the Bank of England's 2% target.
The ONS said in a statement: "Average weekly earnings for employees increased by 2.3% including bonuses and by 2.2% excluding bonuses, compared with a year earlier.
"However, adjusted for inflation, average weekly earnings grew by 0.2% including bonuses and by 0.1% excluding bonuses, over the year, the slowest rate of growth since 2014."
The number of people in work continued to increase – up by 39,000 on the latest quarter to 31.8 million, giving an employment rate of 74.6%, the joint highest since records began in 1971.
Strong growth
Work and Pensions Secretary Damian Green said: "This is yet another strong set of figures, with unemployment at a rate that hasn't been beaten since the 1970s and more vacancies than ever before.
"More people are finding full-time jobs and average wages have grown yet again, meaning more families have the security of a regular wage."
However, Samuel Tombs, chief UK economist at Pantheon Macroeconomics, said: "Households are being caught in a perfect storm of rising inflation and slowing labour income growth."
The unemployment rate is at its highest in the North East region at 6.4% and at its lowest in the South East at 3.4%.
Sterling rose slightly against the dollar after the figures were released and hit a 12-day high versus the euro.