UK inflation falls to lowest in a year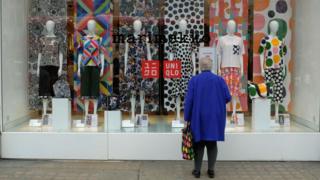 UK consumer price inflation fell in March to 2.5%, the lowest rate in a year, according to the Office for National Statistics.
It fell from 2.7% in February after prices for clothing and footwear, in particular womenswear, rose at a slower rate compared to this time last year.
Alcohol and tobacco also helped ease inflation pressures.
ONS head of inflation Mike Hardie said the new autumn Budget means tobacco duty rises no longer appear in March.
The new data may raise doubts over predictions that the Bank of England is set to raise interest rates in May.
UK wages are rising – the latest data revealed an 2.8% increase in February – while inflation is easing.
The new inflation figure sent the pound 0.7% lower on the dollar to below $1.42.
David Cheetham, chief market analyst at XTB, a trading firm, said: "The bank has been widely expected to hike rates again next month, as inflation remains stubbornly above [the 2%] target, but the latest data suggest that a high-water mark may have been reached.
"Therefore, the bank could well now decide to stand pat in May and await further developments as it appears that inflation could now be starting to move in the right direction."
However, Laith Khalaf, senior analyst at Hargreaves Lansdown, believes falling inflation is unlikely to deter the Bank of England, which is forecast to raise the interest rate to 0.75% from 0.5% in May.
He said: "Wage growth remains surprisingly lacklustre in the face of such low levels of unemployment, though it is now heading in the right direction, and the recent political shift on public sector pay suggests there's some more momentum in the post.
"While an interest rate rise now looks odds on in May, the Bank will still be wary of moving too fast and too soon, so beyond that monetary policy is still likely to move at a slovenly pace."