Theresa May's plan to end intimidation in politics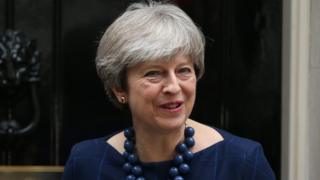 Prime Minister Theresa May is set to announce a crackdown on the intimidation of political candidates.
Later this week, she will say "it cannot be acceptable" for anyone to face threats over their political view.
A 2017 report by the Committee on Standards in Public Life found women, ethnic minority and gay candidates were more likely to be targeted.
Mrs May will also consider creating a new offence to protect those in politics and their families.
Currently, the law relates to undue influence on voters.
The move comes after Tory MP Jacob Rees-Mogg was caught up in a scuffle at a Bristol university and Labour's Clare Kober quit over claims of sexism and bullying by party supporters.
In a speech marking 100 years since women got the vote, Mrs May will highlight British democracy's "robust and oppositional" nature but say a line has been crossed when disagreement turns to intimidation.
The prime minister will say political discussion is becoming harder to have without resulting in "tribalism and rancour".
The exploitation of social media and the option to be anonymous will also be highlighted.
"It is time we asked ourselves seriously whether we really want it to be like this. Whether we are prepared to accept a permanent coarsening and toxifying of our public debate or whether, together, we will take a stand for decency, tolerance and respect," Mrs May will add.
In her speech, the prime minister will say that from May 2019 candidates in local elections will no longer be forced to publish their address on ballot papers.
This would offer them the same protection as UK parliamentary candidates, who are not required to state where they live.
Mrs May will also cite examples where certain individuals and their families had been targeted at home.