Theresa May's critics 'self-absorbed' – Sir John Major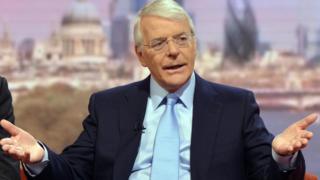 "Disloyal" Conservative MPs should stop undermining Theresa May or risk allowing Jeremy Corbyn into Downing Street, Sir John Major has said.
Writing in the Mail on Sunday, the ex-PM branded Mrs May's critics as "self-absorbed", saying he had watched party infighting with "increasing dismay".
However, Sir John also called on the government to "show its heart again".
Mrs May told the Sunday Times that giving her troubled conference speech was "uncomfortable" and "frustrating".
The prime minister was plagued by a persistent cough and was interrupted by a prankster brandishing a mock P45 during her keynote speech at the Conservative Party Conference on Wednesday.
However, the prime minister said she never considered leaving the stage.
'Speculation'
Asked about speculation she might replace Foreign Secretary Boris Johnson – who has been seen by some as disloyal – Mrs May said she would not "hide from a challenge".
But she said she had a "terrific cabinet" and her leadership was not about "gossip and game playing".
Downing Street described talk of an imminent cabinet reshuffle as "speculation".
Mrs May has come under pressure from some of her own MPs to step down as prime minister following her ill-fated conference speech.
Last week, ex-party chairman Grant Shapps said about 30 Tory MPs backed his call for a leadership contest.
However, former PM Sir John said those Tory MPs should "reflect very carefully" on what was at stake.
"The country has had enough of the self-absorbed and, frankly, disloyal behaviour we have witnessed over recent weeks," Sir John said.
He called for the party to unite and for the government to "win back hearts and minds" or risk the prospect of "neo-Marxist" Mr Corbyn taking the keys to Number 10.
'Messy, unfair, unforgiving'
"It is time for the Conservative Party to show its heart again, which is all too often concealed by its financial prudence," he said.
He added: "An uneasy nation is crying out for the government to speak for them."
He called on the government to review its controversial Universal Credit, which replaced six different benefits with a single payment.
He described the current system as "messy, socially unfair and unforgiving".
Sir John also called for further action on housing and education, urged Chancellor Philip Hammond to ease up on austerity and suggested the government increase borrowing.
"We must persuade the Treasury that – while the cost of long-term borrowing is low – there is an opportunity to vastly accelerate public development of infrastructure and, in particular, housing."
Sir John is the latest senior Tory to defend Mrs May, coming after Home Secretary Amber Rudd and Environment Secretary Michael Gove gave the prime minister their backing last week.
And writing in the Sunday Telegraph, Mr Johnson again pledged his support to Mrs May.
He branded MPs clamouring for the prime minister to resign as "nutters", saying the party had "sniffed the air" and "sensibly" turned away from calling an election.
Mr Johnson backed the prime minister to negotiate a "great and successful Brexit that fulfils the promise to the people".
On Saturday, Mr Johnson urged colleagues to "get behind" the PM because "people are fed up with this malarkey".
In a WhatsApp message he urged Tories to "talk about nothing except policies".
To trigger a vote of confidence in the party leader, 48 of the 316 Conservative MPs would need to write to the chairman of the backbench 1922 committee.
A leadership contest would then only be triggered if Mrs May lost that vote, or chose to quit.