Theresa May condemns 'barbaric attack' in Syria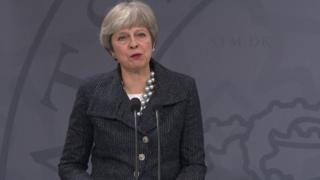 Theresa May has said she "utterly condemns" the "barbaric" alleged chemical weapons attack in Syria.
The PM said if the attack was confirmed as another example of President Bashar al-Assad's regime's brutality, "the regime and its backers including Russia, must be held to account".
Russia has said no evidence of a chemical weapons attack in formerly rebel-held Douma has been found.
The US and France threatened a "joint, strong response" to the alleged attack.
"We are urgently working with our allies to assess what has taken place," Mrs May said after a meeting with the Danish Prime Minister Lars Lokke Rasmussen in Copenhagen.
"Obviously, if this is a chemical weapons attack of the sort initial reports suggest it is, this is… another example of the Assad regime's brutality, and the brazen way in which they have ignored the interests of their people and I think this is a reprehensible attack that has taken place.
"We've seen it's not only adults that have been affected, but children have been affected by this attack."
Medical sources say dozens were killed in Saturday's alleged attack but numbers are impossible to verify.
The United Nations Security Council is to discuss the allegations later on Monday.