Spring Statement: John McDonnell attacks 'astounding complacency'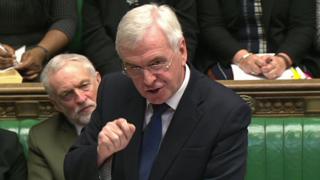 Public services have been "ignored" by the Conservatives despite "a crisis on a scale we have never seen before", Labour's shadow chancellor has claimed.
John McDonnell said the "complacency" shown by Chancellor Philip Hammond's Spring Statement was "astounding".
In his response in the Commons he accused the Tories of not listening to doctors, nurses, teachers or police.
But the chancellor dismissed Labour for offering an "inward-looking, narrow-minded economy".
The exchanges followed Mr Hammond's first Spring Statement, after the Budget was moved to the autumn.
Mr McDonnell argued that "austerity was a political choice not an economic necessity", adding: "We were never all in this together as they claimed."
He said to Mr Hammond: "Your complacency today is astounding. We face – in every public service – a crisis on a scale we've never seen before.
"Haven't you listened to the doctors and nurses, the teachers, the police officers, the carers and even your own councillors? They are telling you they can't wait for the next Budget. They're telling you to act now.
"For eight years they've been ignored by this government. And today – they've been ignored again."