Speculation rife over PM statement at Number 10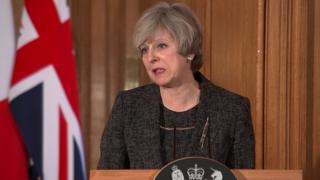 Theresa May is to make a surprise statement in Downing Street at 11:15 BST after her Cabinet meets.
BBC political editor Laura Kuenssberg says she has been told by one source that she will announce a snap general election on 8 June.
Downing Street has always denied Mrs May will call a vote before the next scheduled poll in 2020.
Number 10 has not said what subject Mrs May will address, but statements in the street are usually reserved for big announcements.
Watch the Downing Street announcement here
BBC assistant political editor Norman Smith says broadcasters usually know what is about to be announced, but on this occasion they do not.
"Prime ministers only make Downing Street statements when it's something significant," he said.
These statements can cover resignations and elections, but he added: "We do not know."
The Fixed-Term Parliaments Act sets the general election date as the first Thursday in May every five years, meaning 2020 is the next expected contest.
But Mrs May could call an early election if two-thirds of MPs in the Commons vote for it and Jeremy Corbyn has previously indicated Labour would support such a move.