Scotland's Politician of the Year named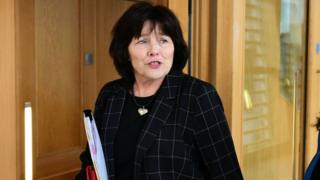 Health Secretary Jeane Freeman has been named Scotland's Politician of the Year.
The one-time communist and adviser to former first minister Jack McConnell was given the award just five months into her role by the Herald newspaper.
Ms Freeman saw off competition from fellow SNP cabinet member Mike Russell and Scottish Conservative leader Ruth Davidson to win the title.
Mental health campaigner Gillian Murray was named Campaigner of the Year.
Her work helped secure a review of care services offered by NHS Tayside following the death of her uncle David Ramsay by suicide in 2016.
'Fine discipline'
Ms Freeman took on the role of health secretary in a reshuffle when Shona Robison resigned, citing personal challenges, amid accusations that she had presided over a series of failings in the NHS.
She made changes within weeks of being promoted to Nicola Sturgeon's Cabinet and went on to set out a three-year plan, backed with £850m of funding, in a bid to meet a series of key waiting time targets for NHS Scotland.
She also announced NHS board debts were being written off as part of the introduction of a new medium-term financial framework.
Speaking after being given the prize at an awards ceremony at Edinburgh's Prestonfield House Hotel, Ms Freeman said: "I've come a long way from being a student communist, haven't I, and it was a fine discipline to learn.
"One of the things you learn when you move on from that discipline is the point of politics is to make a difference, and the make a difference you have to get elected."
She added: "The point of politics is to make a difference, that's why we do it. We shouldn't do it to be somebody, we should do it to do something."
Marathon sessions
Labour's Glasgow North East MP Paul Sweeney won Best Scot at Westminster, in part in recognition for his lobbying of the UK government in immigration cases such as that of Giorgi Kakava, a 10-year-old orphan who had been threatened with deportation following the death of his mother.
While Mr Russell lost out on the top prize, he was named as the Donald Dewar Debater of the Year after spending much of his last year taking on the Tories over Brexit.
Meanwhile former minister Bruce Crawford was honoured as the Committee MSP of the Year after the finance and constitution committee he chairs sat through marathon sessions scrutinising the Scottish government's Brexit continuity bill.
Effective use of Twitter
Kate Forbes, who was made Digital Economy Minister was named as the One to Watch following both her promotion to the government and her campaigning efforts to try to end the use of plastic drinking straws.
Efforts to tackle the problem of everyday Islamophobia by Labour MSP Anas Sarwar saw him receive the award for Community MSP of the Year, with Mr Sarwar having set up a cross party group at Holyrood as part of this work.
Meanwhile, Tory finance spokesman Murdo Fraser was given the Politics in Business Award, and Ms Sturgeon was awarded the E-Politician of the Year for her effective use of Twitter, and Dundee City Council leader John Alexander was named Scottish Local Politician of the Year.