Russian spy: Row over government's poisoning response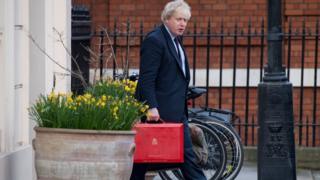 Labour has criticised Foreign Secretary Boris Johnson over his response to the poisoning of an ex-Russian spy and his daughter in the UK.
Shadow home secretary Diane Abbott said Mr Johnson had "misled the British public" and leader Jeremy Corbyn said he may have exaggerated when pointing the finger at Russia.
The UK government has repeated its belief that Russia was behind the "brazen and reckless act".
Moscow denies any involvement.
The international chemical weapons watchdog is meeting at The Hague to discuss the incident.
On Tuesday the UK's Porton Down laboratory said it could not verify the precise source of the Novichok nerve agent used in Salisbury against Sergei Skripal and his daughter Yulia.
Russia has pointed to a now-deleted tweet by the Foreign Office which suggested Porton Down had "made clear" the nerve agent was "produced in Russia".
And Labour, which is the UK's main opposition party, pointed to an interview given to German TV in which Mr Johnson was challenged on his claim that Russia was the source of the Novichok nerve agent.
In response, Mr Johnson said people from Porton Down were "absolutely categorical", adding: "I asked the guy myself. I said 'are you sure?', and he said 'there's no doubt'."
Ms Abbott said: "It seems Boris Johnson misled the public when he claimed that Porton Down officials confirmed to him that Russia was the source of the nerve agent used in the Salisbury attack.
"Those officials have made it clear they cannot identify its source, and are not able to definitively say it came from Russia or elsewhere.
"Boris Johnson is supposed to represent Britain on the world stage, but time and again he has shown he is unable to do so responsibly."
She added that Labour should get credit for its "more thoughtful approach".
Mr Corbyn said Mr Johnson had "egg on his face" and "serious questions to answer".
"Either the foreign secretary has information that he's not sharing with Porton Down or it was a bit of exaggeration," he added.
"I don't know which it is, but I think we need a responsible, cool approach to this."
BBC diplomatic correspondent James Landale said Mr Johnson's "loose language" plus the deleted tweet represented a "self-inflicted wound" by the UK.
This had "muddied the waters" and allowed Russia to cast doubt on the UK's assessment, he said – but he added that the "international alliance" supporting the UK's position was "still holding".
The UK has said that identifying the substance at Porton Down was "only one part of the intelligence picture".
Speaking during a visit to Bangkok, International Trade Secretary Liam Fox said there was "no other plausible area that that could have come from".
He said Porton Down had identified the poison used as a "Russian military grade nerve agent", and that the UK knew that "Russia has been stockpiling amounts of this" and had been "investigating ways of delivering it".
Russia has said the comments from Porton Down's chief executive Gary Aitkenhead reveal the UK's case to be "nothing but assumptions".
On Twitter, the Russian Embassy highlighted the now-deleted tweet by the UK Foreign Office which suggested Porton Down had said the nerve agent had been produced in Russia.
The Foreign Office said the tweet had been part of a real-time account of a speech by the UK's ambassador in Moscow and was deleted because it "did not accurately report our ambassador's words".
It added: "None of this changes the fact that it is our assessment that Russia was responsible for this brazen and reckless act and, as the international community agrees, there is no other plausible explanation.
"No other country has a combination of the capability, the intent, and the motive to carry out such an act."