Probe into MP's election expenses dropped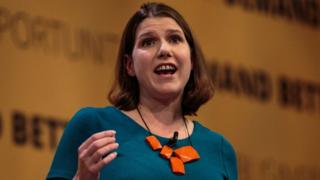 Police have dropped their inquiry into Liberal Democrat deputy leader Jo Swinson's general election expenses after being "unable to establish criminality".
The East Dunbartonshire MP was reported to Police Scotland last year.
The allegations centred on leaflets that the Lib Dems said were not delivered, so should not count towards election spending limits.
The party said Ms Swinson had been the victim of "SNP smears".
The SNP has previously denied it was behind the complaint about Ms Swinson, which was thought to have been made by a constituent.
Ms Swinson lost her seat to the SNP's John Nicolson in the 2015 general election, before winning it back in last year's snap election.
Her official declaration of election expenses for the 2017 campaign came in £210 below the legal limits, but only after stating that £2,700 of leaflets and other material bought by the party went undelivered – therefore not counting towards the total.
A further £4,040 of costs were registered as "national" spending, which meant they were used for promoting the party generally rather than Ms Swinson's local campaign.
At the time, the SNP said voters would "find it hard to believe that so much cash could be spent on leaflets that just vanished", adding that: "It was an election, not an illusion show."
'Sour grapes'
The Liberal Democrats insisted from the outset that there was no substance to the complaint and that all expenditure in the election was apportioned correctly, claiming that the complaint was a "classic SNP tactic when they have lost an election".
A Police Scotland spokeswoman confirmed that the force was now concluding its inquiries after failing to find any criminality.
Welcoming the announcement, a Lib Dem spokesman said: "Instead of having the good grace to accept the election result, the SNP have shown a remarkable lack of respect for the choice that people in East Dunbartonshire made at the general election last year.
"This crusade has been nothing more than sour grapes and the police statement confirms that there is no evidence to support these SNP smears.
"We look forward to the swift conclusion of this investigation."