Privatised firms paid shareholders £37bn since 2010 – Labour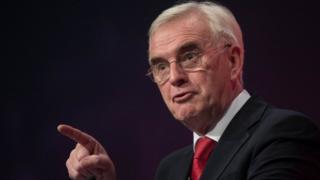 Privatised companies have paid more than £37bn in dividends to shareholders since 2010 according to Labour.
Shadow chancellor John McDonnell says in a speech that money could have been invested in public services.
Labour says it would renationalise some services, but critics say privatised firms are more efficient.
One of the firms, National Grid, said it had invested £14bn in infrastructure since 2007, as well as paying shareholders £10bn since 2010.
The research, carried out by Labour in conjunction with the House of Commons Library, found BT (formerly the state-owned British Telecom) has paid out around £6.3bn in dividends since 2010.
The owner of British Gas, Centrica, paid out £5.2bn.
Speaking at a conference in Lincoln, Mr McDonnell will renew Labour's pledge to renationalise companies, including water and electricity providers and the railways.
He will say: "These figures show what could have gone into investment in these public services in order to expand and improve them or keep their charges down.
"The last seven years of austerity has seen working families suffer from stagnant wages not being able to keep up with prices of items like energy bills, and underfunded public services – yet billions has gone into the hands of shareholders," he will add.
Analysis
By BBC business correspondent, Joe Lynam
We've no idea what giant public limited companies such as Centrica (British Gas), BT or even British Airways might look like if they had remained in public hands.
Advocates of privatisation say that giant utilities are nearly always more efficient when run by experts in their field and driven by a profit motive than when controlled by civil servants.
Critics of selling off the 'state silver' though, say that chasing earnings leads to greed, ill-advised choices and is certainly not in the public interest.
Furthermore the state benefitted handsomely when the above companies (and plenty of others) were floated off in the first place – money that was used to build schools, roads and hospitals.
Labour says £37bn has been paid out in dividends by privatised firms. Interestingly, that's considerably less than what taxpayers paid to bail out one very private bank in 2008: RBS.
A spokeswoman for National Grid said electricity transmission costs were 30% lower since privatisation and that the company had a near-perfect reliability rating on its electricity network.
She added that the energy infrastructure provider had invested £14bn in its gas and electricity infrastructure in the last 10 years.
The BBC has approached Centrica and BT for comment.