Policing facing a 'perfect storm' due to budget cuts and rising crime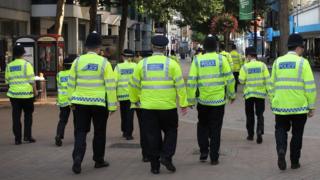 Policing in England and Wales is facing a "perfect storm" due to staff shortages and rising crime, a senior police chief is expected to say.
Policing services are routinely based on fewer people working more hours and days, Ch Supt Gavin Thomas will warn.
The president of the Police Superintendents' Association of England and Wales will say such a model is "fundamentally flawed".
He is due to deliver a speech at the group's annual conference on Monday.
Ch Supt Thomas will say: "I suggest we have a perfect storm developing, comprised of fewer resources, reduced public services, new threats, and a worrying increase in some types of traditional crime.
"If the model for delivering policing services in the future is fewer people, working longer, each doing ever more, then I suggest that model is fundamentally flawed."
'Unacceptable'
Ch Supt Thomas will tell Home Office minister Nick Hurd that demands on policing services have demonstrated a "clear case for an open and transparent debate and review".
"Otherwise we are being driven not by the need to provide the best possible policing service that meets the needs of the public, but primarily by the need to save money," he will add.
His warning comes after a survey of the association's members found that 27% of the 900 who responded thought they had enough resources to do their job properly.
Half said they had experienced symptoms of anxiety and a quarter signs of depression.
The association is calling for measures to be introduced to improve the health and wellbeing of superintending ranks and the wider service.
These include ensuring policing employers provide an annual health screening and the responsibilities at superintendent level to be evenly and fairly distributed.
"It is frankly unacceptable that the senior operational leaders in policing are under so much pressure that a quarter of them have signs of depression," Ch Supt Thomas will say.
"It is not a healthy position for the service to be in, and it is definitely not in the interests of the public."
Mr Hurd is to address the conference about the mental wellbeing and support received by police officers.
He will highlight that the government has given charity Mind £1.5m to ensure emergency service workers involved in recent tragedies can receive targeted support.
He is due to say: "We know that policing, by its nature, can be a stressful and challenging job.
"So it's important that the government acts too when and where we can add value.
"In July, the home secretary awarded £7.5m of funding from the Police Transformation Fund over three years to pilot and – if it is successful – fund a dedicated national service to help provide enhanced welfare support, for any officer or member of staff who needs it."