Operation Conifer: No government action over Ted Heath sex abuse probe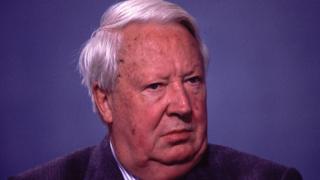 The government has rejected peers' pleas to intervene over the investigation into sex abuse allegations against former prime minister Sir Edward Heath.
Members of the Lords said the investigation by Wiltshire Police was "deeply flawed" and had "tarnished" Sir Edward's reputation.
Operation Conifer, which closed last year, looked at allegations of historic child sex abuse by the former PM.
Sir Edward died in 2005.
He led a Conservative government from 1970 to 1974.
Last October the police said he would have been questioned over seven of the total of 42 claims if he had been alive when they came to light, but that no inference of guilt should be drawn from this.
It said it had carried out an "impartial and thorough investigation" but its report has been criticised by supporters of the former Conservative prime minister and, in the House of Lords, there were calls for the police inspectorate to look at Wiltshire Constabulary's handling of the case.
Conservative peer and historian Lord Lexden said it was "disgraceful" that a year on from the completion of Operation Conifer, "nothing whatever has been done about the slur which unsubstantiated allegations have left on the reputation of Sir Edward Heath".
He said the government must not "evade" responsibility for the "burning injustice" and said it should ask for an inspector to look into the police's investigation.
Labour's Lord Campbell-Savours said several high-profile figures had had their reputations damaged by "false or unproven allegations" and called for a change in the law around anonymity and compensation.
"British justice is being trashed and we are witnesses to it," he said, while Tory Lord Howell added: "A dead statesman has had his reputation almost fatally tarnished on very dodgy evidence and it is really time that justice was injected into this situation."
Government spokeswoman Baroness Williams said it was "unfortunate" that Operation Conifer could not "resolve conclusively" the allegations.
She said it was open to Wiltshire's police commissioner to initiate an investigation, but said there were no grounds for the government to intervene.