No-deal Brexit would be a catastrophe, Mark Drakeford says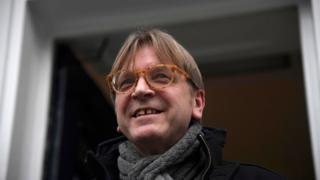 Failure to reach a Brexit deal with the European Union would be "catastrophic" for the UK, according to Finance Secretary Mark Drakeford.
He said an inability to reach an agreement "would have dire economic, security and social consequences".
Prime Minister Theresa May has said her ministers are preparing for "every eventuality", including no deal.
Mr Drakeford is due to meet European Parliament Brexit negotiator Guy Verhofstadt in Brussels on Tuesday.
Mr Drakeford said it was "a deeply dangerous fallacy" that no deal "is a viable outcome".
"It is more important than ever for transition discussions between the UK and the EU 27 to commence as soon as possible. Business confidence is already suffering due to the uncertainty," he added.
Mr Drakeford's meeting with Mr Verhofstadt follows his meeting with UK and Scottish government ministers on Monday.
After the meeting of the Joint Ministerial Committee in Westminster, Mrs May's deputy, Damian Green, said a "significant step forward" in Brexit talks between the UK and Welsh governments had been claimed.
But Mr Drakeford said the Welsh Government has not dropped its threat to oppose the EU Withdrawal Bill.
Both governments are also in disagreement about the possibility of the UK not reaching a deal with the EU.