Nigel Farage 'has £35k pay docked by EU over misspending claim'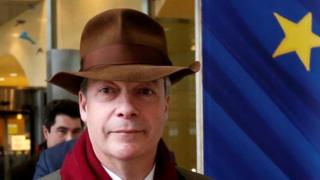 Nigel Farage is reported to have had his MEP's salary docked by £35,500 after claims he misspent EU funds.
The ex-UKIP leader was investigated by the European Parliament over claims his office assistant had not been working on EU matters, the Guardian reports.
Half of his salary has been withheld to recoup the money the Parliament says it is owed.
The move was condemned by a spokesman for the European Parliament group which Mr Farage heads.
"There is a vindictive campaign by the European Parliament of selective persecution of Eurosceptic MEPs, parties and groups," said the spokesman for the European Freedom and Direct Democracy group.
"This allegation is all part of their politically motivated assault."
European Parliament auditors last year suspended the contract of Christopher Adams, who was hired to be Mr Farage's assistant in Brussels and Strasbourg.
Mr Adams, a former UKIP Parliamentary candidate, was also the national nominating officer for UKIP, according to the Guardian.
The European Parliament has declined to comment on the story.
Mr Farage has been contacted for a comment.