MPs to debate forcing supermarkets to offer plastic-free wrapping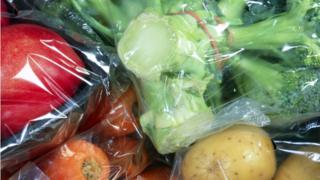 MPs will debate whether supermarkets should be forced to offer plastic-free packaging for every piece of fruit and vegetable they sell.
A petition on the government website has gained over 123,000 signatures – those with more than 100,000 are considered for debate.
It cites environmental concerns about single-use plastic.
Currently supermarkets are not required by law to offer shoppers plastic free or eco-friendly packaging.
But Prime Minister Theresa May has pledged to eradicate all avoidable plastic waste in the UK by 2042. And individual supermarkets have set themselves their own targets to reduce packaging.
The debate will start at 1630 GMT on the 12 November.
The five constituencies with the most people who signed and supported the petition were: Bristol West, Brighton Pavilion, Edinburgh East, Edinburgh North and Plymouth, Sutton and Devonport.
A government spokesman said; "We are working with retailers and the Waste and Resources Action Programme to explore the potential for the introduction of plastic-free initiatives in supermarkets in which fresh food is sold loose."