MPs condemn 'Punish a Muslim' letter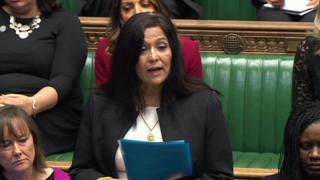 MPs have condemned letters encouraging recipients to take part in "Punish a Muslim Day" as "abhorrent".
An urgent question was raised in the House of Commons by Labour MP Yasmin Qureshi after reports that letters were sent out in a number of UK cities, calling on people to verbally and physically attack Muslims.
Minister Victoria Atkins said the letters had "no place in our society".
She promised to write to police chief constables to warn them about the date.
Ms Qureshi gave details of the letters that were said to have been received in Bradford, Leicester, London, Cardiff and Sheffield.
She said: "There has been a sharp rise in the Far Right movement in Europe and beyond. This is a really urgent situation and it needs to be urgently tackled."
Labour MP for Walthamstow, Stella Creasy, said she found out that some of her constituents had received the letters on Friday evening while helping others report anti-Semitic graffiti.
"We have to do more than condemn these individual incidences," she said.
"We must in this House speak up for the communities we represent and the power of diversity and immigration to enrich all of our lives."
Conservative MP Michael Fabricant said the House was at its best when it came come together to "condemn evil actions", adding: "We can all unite against this letter."
And Ian Austin, Labour MP for Dudley, said he would use the day to visit as many mosques and Muslim community centres in his constituency as possible "to show them I am on their side" and called on other members to join him.
'Full force of the law'
Counter Terrorism Policing North East said it had received reports of "potentially malicious communications sent to individuals across the UK".
West Yorkshire Police said it had received six reports while South Yorkshire Police said it had received three.
A Metropolitan Police spokesman said it had received two reports of letters being sent to people, one in east London and the other in the SW4 area.
Ms Atkins encouraged anyone who had been a victim of hate crime to report it and promised the government would be "refreshing" the hate crime act to continue to keep it up to date.
She said while she could not comment directly on the case, it was being investigated "fully" and "with the full force of the law".