MP Sarah Champion calls for end of 'smart motorways'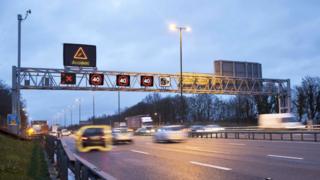 An MP has called for smart motorways to be halted after a spate of deaths on the M1 close to her constituency.
Five people have died in 10 months on a 16 mile-stretch of the M1 in South Yorkshire operating "all lanes running" (ALR) – when there is no hard shoulder.
Rotherham MP Sarah Champion said "it is totally unacceptable to risk lives in the name of cost savings".
Transport minister George Freeman said a package of measures would be announced "imminently".
Ms Champion asked the government to "take the opportunity of a recently announced review into smart motorways to change course and prevent further loss of life".
She told a debate in Westminster: "The safety of motorists must always be paramount… it is totally unacceptable to risk lives in the name of cost savings.
"There is no evidence that shows me ALR can ever be delivered safely. I therefore strongly believe the government must stop the rollout with immediate effect."
She cited the death of her constituent, Jason Mercer, and Mansfield resident Alexandru Murgreanu, who were hit by a lorry on an ALR stretch of the M1 near junction 34.
Mr Mercer's widow is bringing legal action against Highways England over the use of smart motorways.
Neil O'Brien – who represents Harborough in Leicestershire – told the debate a coroner's report into the death on the M6 of one of his constituents, Dev Naran, raised some of the "huge issues" Ms Champion was talking about.
"There is no consistency in the spacing of refuges as [Ms Champion] said, and huge stretches have no refuges at all," he said.
"Officials have been too blithe about the problems she is pointing out. I hope that the minister will stand up to the officials and take the huge problems seriously."
Ms Champion said motorway rescues were like "walking into a death trap" and organisations like the RAC and AA – which confirmed it cannot deal with stranded vehicles in "live" lanes – had warned ALR "presents an unacceptable risk".
"The smart motorway is meant to be smart, and its systems should come into play – for example, to close lanes to traffic automatically – but that of course relies on the stranded vehicle being detected.
"It pains me to say, however, that the vast majority of England's smart motorways are unable to deliver on that.
"Yesterday, it came to light that the AA will no longer carry out roadside assistance on ALR motorways due to serious safety concerns. How bad does it have to get before the minister will act?"
Mr Freeman told the debate that "one accident is one too many".
He added: "I want to ensure that no-one ever dies in this way again, and that the legacy of the people who have died, is that this sort of accident – and the situation in which it occurred – cannot happen again.
"That is why [Transport Secretary Grant Shapps] announced an evidence stock-take soon after taking office. He has called in all the evidence and data, and he is looking at a package of measures to deal with this issue, which will be announced imminently."
Previously, Highways England boss Jim O'Sullivan warned "dynamic" smart motorways are "too complicated" for drivers.
Follow BBC Yorkshire on Facebook, Twitter and Instagram. Send your story ideas to yorkslincs.news@bbc.co.uk.