Momentum under investigation by Electoral Commission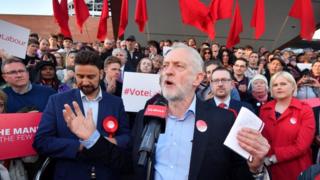 The Electoral Commission has opened an investigation into the Labour-supporting Momentum group to see if it breached finance rules in relation to spending during the 2017 election.
The elections watchdog says its probe will consider if Momentum's returns included accurate donation information.
It said questions over compliance risked harming voter confidence.
Momentum was set up to support Jeremy Corbyn's successful 2015 leadership bid and now campaigns for Labour.
The group was registered as a non-party campaigner during the snap 2017 general election in June.
Bob Posner, the Electoral Commission's director of political finance, regulation and legal counsel, said: "Momentum are a high profile active campaigning body.
"Questions over their compliance with the campaign finance rules at June's general election risks causing harm to voters' confidence in elections.
"There is significant public interest in us investigating Momentum to establish the facts in this matter and whether there have been any offences."