Ministers 'vague' and 'divided' over Brexit, senior Tory claims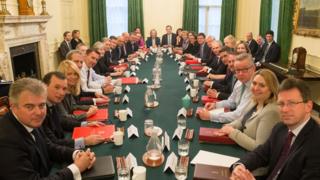 A senior Conservative MP has accused ministers of being "vague" and "divided" over Brexit.
Writing in the Sunday Telegraph, arch Brexiteer Bernard Jenkin singled out the chancellor for criticism, urging him to back the PM to deliver a "clean" EU exit.
He insisted Theresa May should stick to her present policy despite the Treasury having its own "house view".
It comes ahead of key ministerial meetings on the UK-EU relationship.
In the paper, Mr Jenkin, a leading figure in the Vote Leave campaign, said internal clashes were making life more difficult for Mrs May.
"If ministers are vague or divided, life for officials becomes impossible, as we can see now. Ministerial collective responsibility really matters," he said.
He added: "If the prime minister sticks to one policy and the chancellor keeps advocating another, what are officials meant to do?"
BBC political correspondent Eleanor Garnier described Mr Jenkin's comments as "stark criticism" of Philip Hammond.
Earlier this month, Mr Hammond suggested the UK's relationship with the EU would change only "very modestly" after Brexit.
But Mr Jenkin urged the prime minister to stick to her position and ensure, among other things, Britain leaves the single market and customs union.
He wrote: "She can only command a majority in Parliament on her present policy.
"Her MPs will back her, because we are overwhelmingly at one with the majority of the British people who now want a clean Brexit and an end to the present uncertainty."
Mr Jenkin was also referring to Treasury officials coming under fire from Tory Brexiteer Jacob Rees-Mogg, who claimed they were "fiddling the figures" on Brexit.
Mr Jenkin defended all officials by saying "unambiguous and united direction" is needed from ministers and that accountability lies with the ministers, not the officials.