Ministers outline plan for disabled people's air travel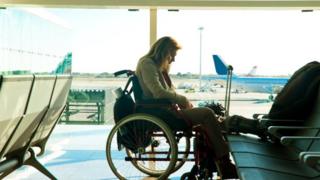 New measures to improve air travel for disabled passengers are being considered by the government.
They could include a limit on the time passengers wait for assistance boarding and disembarking, and quicker reunions with their wheelchairs.
The issues faced by disabled flyers were recently highlighted by the BBC's Frank Gardner, whose wheelchair was lost at Heathrow Airport.
The government said it wants to ensure a "positive" flying experience.
Ministers are also talking to the aviation industry about developing priority storage for wheelchairs so that they can be returned to their owners quickly upon arrival.
They are also considering the removal of seats to allow wheelchairs to be used in cabins – allowing those who cannot transfer or who require specialist seating to travel – and to create space for disabled toilets
Aviation minister Baroness Sugg said: "We have to do everything possible to ensure passengers are put at the very heart of our aviation industry and the flying experience is a positive one for everyone boarding a plane."
Mr Gardner, who was kept waiting on a plane for almost two hours after landing at Heathrow in March, described the government's ideas as a "welcome step" but added "we're unlikely to see actual changes in near future".
He said there is "still a long road to travel".
"Many disabled people rely on essential equipment like wheelchairs for their own personal mobility," said Keith Richards, who advises the government on transport for disabled people.
While Mr Richards said that while wheelchairs are "too often treated in the same way as baggage" he welcomed the move to give them priority.
The government is due to publish its aviation strategy in early 2019.