May and Varadkar head to Belfast amid Stormont deal speculation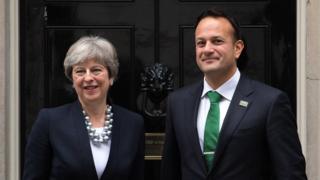 Theresa May and Irish Prime Minister Leo Varadkar are to visit Belfast later for talks with the Stormont parties.
It comes amid speculation the DUP and Sinn Féin are close to agreeing a deal to restore devolved government.
Several previous rounds of talks between the two parties have failed to break the deadlock.
Northern Ireland has been run by civil servants since the power-sharing executive made up of the DUP and Sinn Féin collapsed in January last year.
The late Martin McGuinness pulled Sinn Féin out of the coalition, objecting to the DUP's handling of a scandal over green energy scheme.
Mrs May last visited Northern Ireland in May when she toured the Balmoral Show ahead of a snap general election.
Since then she has struck a parliamentary deal with the DUP and has faced criticism for adopting a hands-off approach to the deadlock at Stormont.
A Downing Street spokesman said the prime minister would remind the parties of the many pressing issues facing Northern Ireland and make clear her belief that a fully functioning executive is the best way to serve the interests of the whole community.
Mrs May is also expected to visit a major employer to underline the government's commitment to the local economy.
A spokesman for Leo Varadkar said the taoiseach would use his visit to "assess the state of play" and "encourage the parties to reach an agreement".
"The (Irish) government has consistently said that the restoration of the institutions is essential in the context of full implementation of the Good Friday Agreement, and that it will continue to work very closely with the British government to support the northern parties to achieve this outcome," he said.
At the weekend, Sinn Féin's vice president Michelle O'Neill predicted that the Stormont talks would conclude this week.
Her comment strengthened speculation that a compromise between her party and the DUP could soon be unveiled.